S.O.S. Conference Converts to an Online UN-Conference Due to COVID-19
With the conference conversion to online presentations….
Do you have an idea? Would you be interested in presenting a video during the UN-Conference? Please send any ideas and content submissions that you want to share to the ICPC email
Don't want to "present"?
Have a topic you would like to see presented or have a question you would like to have answered, please send your idea or request to us at our email address: iowa.conserveandpreserve@gmail.com. We would love to hear your ideas and topics.
Though we are not able to meet in person this year…
We are hoping that the online UN-Conference will allow our members to share ideas and techniques together. All current members are eligible to attend the UN-Conference. Not a member? No Problem. To join ICPC, you can go to the membership page or click here
What about the Annual Meeting?
The Annual Meeting is in the process of restructuring, so check back for details here or on our other social media sites.
What about the planned visit to the Spirit Lake area this year?
We are now planning to have our 2021 S.O.S. Conference at this year's venue, Spirit Lake, Iowa. We will be sending out more information about this event soon.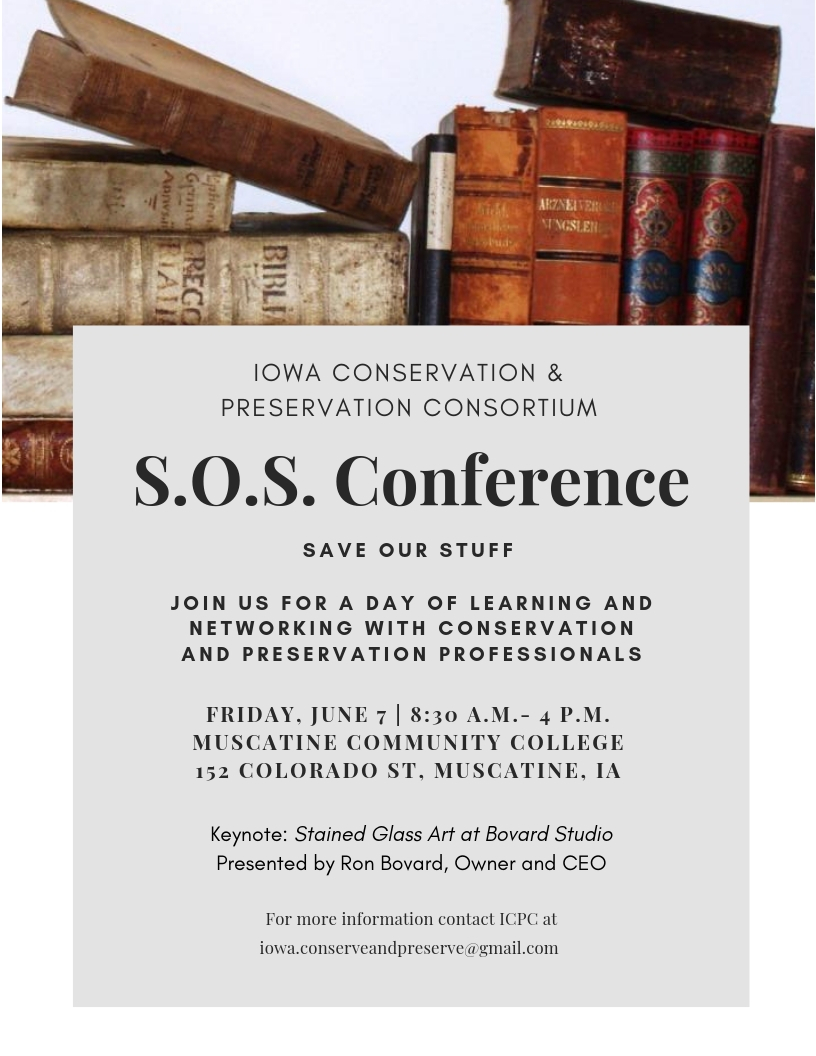 For a full itinerary click here.
How to Register
Locate your membership type/level (select from the drop down if necessary)
Click the "Buy Now" button below your membership level/type
If registering under an organizational membership please include the number of attendees and their names in the note box during payment
If there are any dietary restrictions or other needs we need to be aware of please include that in the note box available with your payment or email iowa.conserveandpreserve@gmail.com
If needed, you can mail your check, list of attendees, and any needs or dietary restrictions to:
The Iowa Conservation and Preservation Consortium
c/o The University of Iowa University Libraries
100 Main Library
Iowa City, IA 52242-1420
Send any questions or concerns to Sarah at iowa.conserveandpreserve@gmail.com
---